Welcome to the Jackson Community Music School!
The Jackson Community Music School offers quality, affordable private instruction in all instrument groups, as well as a wide variety of music classes for all ages and levels. Over 9,000 private lessons and classes took place in 2017-18 at our school, and hundreds of our talented young music students performed in front of large, appreciative audiences. Click here to learn more.
New Director of Music Education Jed Fritzemeier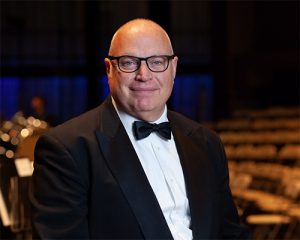 The Jackson Symphony Orchestra is excited to announce Jed Fritzemeier, as our new Director of Music Education. Jed is the retired orchestra director of Chelsea High School and has played bass with the JSO for many years. Jed brings over 35 years of experience to the JSO. As part of Jed's role, he will oversee our Community Music School, the JSO's educational programming in schools, pre-concert lectures and our outreach programming. Jed will begin his new role with the JSO in early July. Please join us in welcoming Jed Fritzemeier to the JSO.
JSO and Jackson Youth Symphony Orchestra Announce Their Merger
The Jackson Symphony Orchestra and Jackson Youth Symphony Orchestra are excited to announce their merger. Both organizations have a long and successful history of ensuring high quality music education and performance. This merger allows for the sharing of resources including staff and finances. We are excited to be able to continue to offer performance opportunities to youth as well as give them opportunities to work with professional musicians from the Jackson Symphony Orchestra.
Thank you Jackson Symphony Guild for your largest donation to date! $100,000