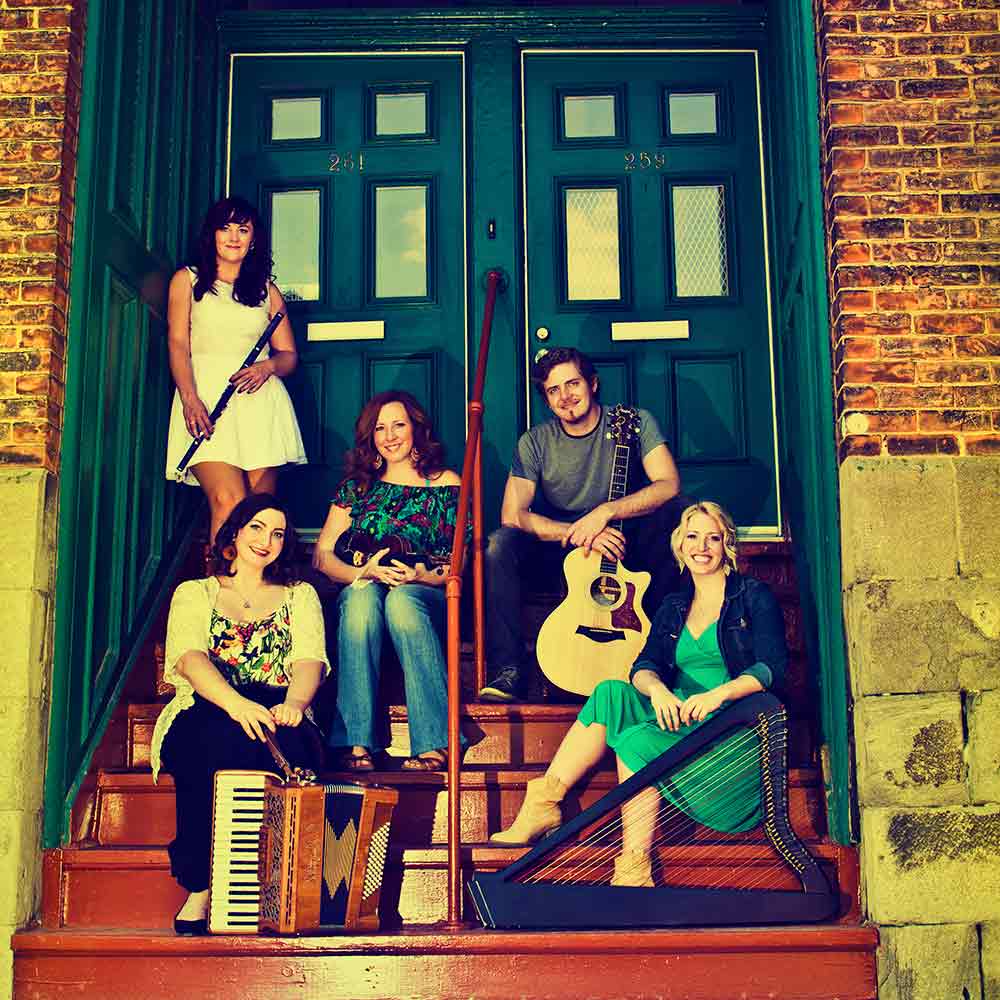 Save the date: March 18, all day! The 4th annual CMS Irish Festival will take place once again on Saturday, Mar. 18. We have a lot of fun activities and live music, including our headliner band The Outside Track, direct from Ireland!
The family festival starts with storytelling and live music at the Jackson District Library from 1-2:15p. We will have a bagpipe parade back to the JSO building (weather permitting) where we'll have more live music, arts and crafts, refreshments, and more. All daytime activities are free to attend and open to the public.
At 8p, we will feature our mainstage act, The Outside Track!  The Outside Track are simply a consummate blend of skill, talent, flair and intensity! They were winner of Best Group in both the Live Ireland awards and the TIR awards, and a finalist for best album in the 2016 Indie Acoustic Project Awards, The Outside Track are one of the top Celtic acts in the world. A stunning synthesis of virtuosity and energy, their marriage of Celtic music, song, dance has been rapturously received around the world. Hailing from Scotland, Ireland, and the USA, its five members are united by a love of traditional music and a commitment to creating new music on this as a foundation. They effortlessly fuse traditional and contemporary with winning joie de vivre, blending fiddle, accordion, harp, guitar, whistle, step-dance and vocals with breathtaking vitality. 'Among the top groups in the world. Traditional, creative, and brilliant' –LiveIreland.com.
Tickets to this show are only $15/adults, $5/students. Beverages will be available for purchase. See complete festival listing below and hope to see you there!
Jackson Irish Festival
March 18, 2017
Sponsored by Eric and Patti Poppe, Jackson Symphony Orchestra, Community Music School, and the Jackson District Library
1-2:15pm
Family Festival
Irish Storytelling with Yvonne Healy, Celtic Harp and Flute/Pennywhistle music by Deidreanna and Tabitha Potter
Jackson District Library – Carnegie branch
FREE

2:15-2:30pm
Gary Blohm, bagpiper
Public parade from JDL to Jackson Symphony building (4 minute walk)
FREE to participate
2:30-3:30pm
Family Festival
Bagpipe Demonstration, live music, arts & crafts, refreshments, and so much more!
JSO Weatherwax Hall
FREE
8pm
Mainstage Concert
The Outside Track
JSO Weatherwax Hall
$15/adults; $5/students
Beverages/Refreshments for sale
The JSO Irish Festival is generously sponsored by Eric and Patti Poppe.